Top Holiday Destinations > Cape Verde Holidays
Cheap Holidays to Cape Verde from only £439
Call us for low deposits - from just £50pp!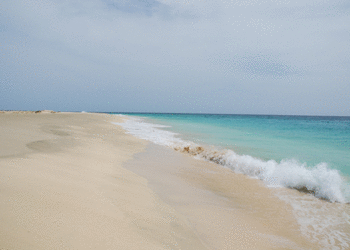 The archipelago of the Cape Verde is made up of ten islands. It is situated in the Atlantic Ocean just 385 miles off the coast of Senegal in West Africa and 800 miles south of the Canary Islands. The Cape Verde Islands are on the same latitude as Barbados and are the nearest tropical islands to the UK at just six hours flying time. The islands are GMT -1, just one hour behind the UK in the winter and two hours behind during British Summer Time and as such there is no jet lag.
The beaches are superb long stretches of soft white sand. The most popular are on the islands of Boa Vista and Sal, which can be reached with direct flights from the UK. For the adventurous who fancy using local ferries, other islands have beautiful, deserted beaches at the likes of Maio, Santiago and São Vicente.
Six reasons to have a holiday in Cape Verde
Excellent Year Round Sun Record
Fab White Sand Beaches
Perfect Place To Relax
No Jet Lag
Lots of Watersports
Fusion Of Influences From Europe, Africa and Brazil
Cape Verde Holidays - Enjoy over 3000 hours of sun per year!
Holidays in Cape Verde benefit from a dry, moderate climate throughout the year with generally very little rainfall although it can vary according to the island and altitude. In the coastal towns it rains on an average of just 20 days a year in contrast to nearly eight hours of sun (around 3000 hours per year!), however it can rain more often in the green and mountainous islands. There is usually a pleasant, light breeze and the islands are a great choice for a year round holiday destination.
The island of Sal has a colonial feel with Portuguese influences including colourful buildings and churches. The island has a lunar landscape that includes a fabulous beach. Santa Maria is the main resort on the island and is where most of the hotels are and offers a quaint town square with cobbled streets.
Boa Vista is now available from selected regional airports and is a great choice for a beach holiday with many miles of sandy beaches and rocky coves waiting to be discovered. It is a good choice for windsurfing or water sports enthusiasts.
Call today and save up to £450 per couple!


Cape Verde Islands - Food, drink & entertainment
Whilst many of the hotels offer all inclusive holidays in Cape Verde, you can still find a range of restaurants to suit most tastes in the more popular tourist area of Sal and some of the larger towns on the various islands. Freshly caught seafood is always on the menu and cooked to local recipes, with relatively inexpensive swordfish and tuna widely found. Bananas, papaya, mango and other fruit including strawberries are usually readily available when in season. Most meat on the islands is imported from Brazil and South Africa. The wines come mainly from Portugal, although there are a selection good wines produced on the island of Fogo, and there are local beers and a rum-based grogue, which is a definite must try for tourists! The island of Fogo also produces fine coffee and cheeses.
What is there to do on Cape Verde Holidays?
There are a wide range of activities to enjoy during your time on the islands. For many the most energetic they get is to walk to the pool and back, however for the more active there is a good choice of things to do. Island hopping is a great way to discover new places and using the inter-island ferry service or regional airline is a perfect way to do so. On Sal a quad bike safari is a great way of seeing the island too. The crystal clear waters around the islands are excellent for scuba diving and deep sea fishing, as well as a range of watersports such as waterskiing, windsurfing, sailing and kitesurfing on the deserted sands.
The summer months are popular with bird watchers who enjoy a variety of tropical species and the islands are a nesting site for loggerhead turtles in August and September.
The larger hotels often provide international style entertainment, however the local entertainment is certainly the most interesting, especially on Sal where there is a choice of clubs, bars and restaurants. The locals enjoy their music and dancing with African Tribal, Samba and Salsa on the menu, be it in the street, in a bar, on the beach or at a festival. The annual Mardi Gras take place in late February, but each island also has at least two further fiestas each year.
Have a browse around our site for a great deal on Holidays in Cape Verde or pick up the phone and call one of our friendly team today free on 0800 091 4935.
Cape Verde Hotels
Similar Destinations
Prices based on cheapest date, duration (at least 7 nights) and departure point for individual month. A specific quote may result in a higher priced holiday. Holidays all include compulsory charges but may exclude optional extras. The cheapest price could be room only, bed & breakfast or half board and is based on maximum occupancy of room. Please call out staff today for more information. Prices correct as of 8:50pm on 26th July 2015 and subject to change and availability.