Top Holiday Destinations > Bulgaria Holidays
Cheap Holidays in Bulgaria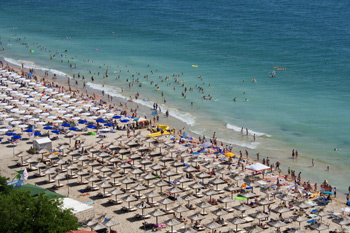 Bulgaria is situated on the Black Sea with around 400km of beautiful coastline. The Black Sea holiday resorts of Bulgaria offer some of the very best sandy beaches in Europe many of them have EU blue flag awards making Bulgaria holidays very popular with all ages and especially families. The resort of Sunny Beach is the most popular with British holidaymakers and has a huge range of accommodation ranging from basic self catering to luxury all inclusive hotels. Bulgaria is situated in the Balkans and shares borders with Greece, Romania and Turkey.
If you are looking for a great value for money holiday destination with great beaches, fascinating history and modern resorts, it's time to think about Bulgaria. Holidays in Bulgaria offer excellent value for money with low prices in resort as well as some very cheap holidays throughout the summer season compared to other European destinations. Popular resorts along the Black Sea coast of Bulgaria include Albena, Elenite, Golden Sands, Nessabar and Sunny Beach, all of which are served by either Bourgas or Varna airports and have lots of flights from the UK. Weather during the summer months in Bulgaria can reach the high twenties and the best time to visit Bulgaria for a holiday is between May and early October.
All inclusive hotels in Bulgaria are becoming more popular, however many people prefer bed & breakfast or self catering and eat out at the huge choice of bars and restaurants in the many resorts. Bulgaria holidays offer a fantastic alternative to other Euro resorts as it has its own currency and your pound goes a lot further here with some ultra cheap prices in shops, restaurants and bars. In fact Bulgaria has actually been voted the best value for money holiday destination many times by various surveys.
Bulgaria holidays: Something for all ages
The young and lively crowd love the strip in Sunny Beach which has all the bright lights and neon you need with clubs and music bars playing the latest hits. Families still enjoy Sunny Beach for its lovely beach and good choice of restaurants away from the lively centre. Couples like the smaller resorts such as Elenite and Nessebar where you can relax but still enjoy the fabulous beaches and local culture as well as the excellent restaurants. Golden Sands has a lively nightlife scene without being too boisterous with a good choice of nice restaurants, bars and a scattering of clubs too.
Bulgaria boasts one of the oldest civilization in Europe with some of the most modern tourist resorts, you could find yourself basking on sandy, sun drenched beaches or enjoying a lovely fresh fish dinner in one of the excellent seafood restaurants in Nessebar.
If you are looking for a bit more culture, this Slavic country is steeped in history and has a deeply religious culture. There are Thracian Tombs, Greek ruins and Roman forts scattered around the countryside and many other ancient monuments. There are also over 160 orthodox monasteries in Bulgaria; all of them situated in idyllic, natural surroundings with around twenty open to the public. Proof that family holidays in Bulgaria can be cultural as well as relaxing!
There are plenty of things to do in Bulgaria with trips to Bourgas and Varna for shopping, boat trips to quieter resorts or water parks for the kids (and big kids) to enjoy, there is always something going on. Get away into the stunning countryside where there are a wide choice of walks and trekking available. Bulgaria holidays have something for everyone and you cannot get much better value for money!
Traditional cuisine also features strongly in Bulgaria and features a mix of the best of Southern European influences. At a typical Bulgarian meal, you will see a combination of culinary cultures, from neighbouring countries including Greece, the Middle East, Turkey and the Mediterranean. A meal is very likely to feature a rich salad, but could be accompanied by foods as diverse as Babek sausages, Sirene cheese, pumpkin pastry or for the more adventurous Lamb's liver and lung, served with rice. Bulgarian wine is enjoying a renaissance and you could watch the sun set with a glass of Parmid wine or, not for the faint hearted, one of the many varieties of Raika.
Book Bulgaria holidays today - Low deposits available - Call us today!
Prices based on cheapest date, duration (at least 7 nights) and departure point for individual month. A specific quote may result in a higher priced holiday. Holidays all include compulsory charges but may exclude optional extras. The cheapest price could be room only, bed & breakfast or half board and is based on maximum occupancy of room. Please call out staff today for more information. Prices correct as of 1:05pm on 14th November 2015 and subject to change and availability.
Bulgaria Resorts
Similar Destinations